Gourmet Mushroom Cultivation Workshop
Saturday March 10th

For registration information, please email us at pjanepost@aol.com
and we will send you all the details!
Sustainable Kentucky did a great write-up on Our Mushroom Cultivation Workshop!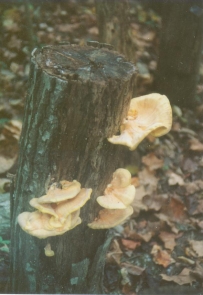 Chicken-of-the-woods fruiting on a red oak log

Shiitake on hickory

We have been cultivating several varieties of gourmet mushrooms for almost 20 years, and we are now offering a day-long program featuring all you need to know to grow your own Shiitake, Oyster, Wine-cap stropharia and other specialty mushrooms.

We will include:

Some Tips on wild mushroom gathering

Hands-on experience inoculating logs

Demonstration of cultivation of mushrooms on stumps and beds of woodchips

Inoculated logs, spawn and mushrooms to take home

A comprehensive mushroom cultivation supplies catalog to take home


tree oyster mushrooms (very similar to the local wild oysters) fruiting on tulip poplar

gray dove oysters on an elm stump

Tour of our well-diversified organic farm

Mushroom cooking class with recipes to take home

Demonstrations of drying and other methods of preserving mushrooms

A full Vegetarian Brunch and Light Supper prepared fresh in our kitchen using our own home-grown organic produce.

A cluster of Golden Oyster Mushrooms

Come join us for a fun-filled day of learning how to grow and enjoy your own delicious, gourmet mushrooms!